Group Fitness in Lewis Center, OH
There is something about being in a group that helps you feel supported, motivated, and empowered to take on any type of challenge. That is why our group fitness programs in Lewis Center, OH are such a great choice. Within these programs, you're surrounded by likeminded people from a variety of fitness levels, each one ready to reach their goals and take on the challenges ahead.
Our Lewis Center Group Fitness Classes
At FastTrack2, we schedule a variety of fun, engaging, and effective group fitness classes for anyone looking to achieve their personal exercise goals. Our programs include:
Group Strengthening Classes
Group Toning Classes
Group Conditioning Classes
Group Health Classes
Group Weight Loss Classes, and More
We're also frequently adding new group fitness classes at our Lewis Center gym, with the goal of providing all of our of our clients with a variety of opportunities to match their interests.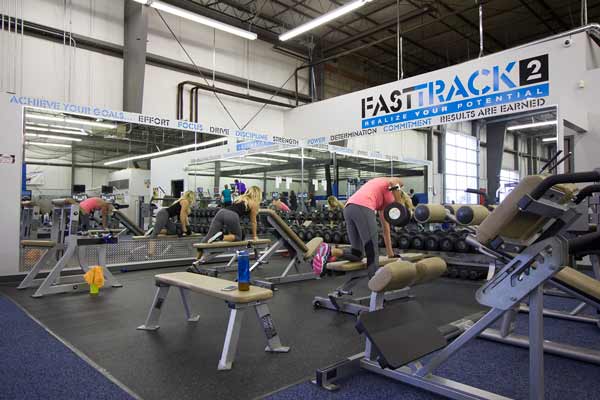 Find Your Next Group Exercise Class in Lewis Center, OH
You have your own goals. Our Lewis Center, OH group exercise opportunities allow you to find the classes that are best suited for helping you achieve those goals. FastTrack2 is more than just a Lewis Center gym. We're an entire fitness center that's here to help you reach any of your personal goals, and our Lewis Center group fitness classes are one of the best ways to help you get there.
Led by only the best in personal trainers, we're confident that once you've tried one of our fitness classes, you'll keep coming back for more – and possibly make some new friends along the way. For more information about any of our group classes, please click here call us today at (614) 638-2942, or come in and visit our Lewis Center, Ohio location.
Special Offer for New Clients 
Get your first week free so you can see how much you'll love training at FastTrack2 before having to buy your first month. Call (614) 638-2942 to schedule your first session today.
We have group classes at 5:00, 6:00 and 9:00am during the week. High school aged children also have class options between 3:00-4:00pm  Monday, Wednesday and Friday's. If you would like a class option at lunch time or a different time than these mentioned please contact me and I will see if we can add it for you.
Our group-fitness programs utilize Virtuagym Software― apps which provide class information and help you monitor your nutritional progress and fitness goals. These apps give you information on classes, keep track of your fitness goals, and help you continue your weight loss and other workout plan needs.
Why wait for your fitness any longer? Come visit us at FastTrack2 today, click here or give us a call at (614) 638-2942 to get started.