Personal Training & Weight Loss Program in Lewis Center, OH
Weight loss is one of the best things you can do for your overall health. At FastTrack2, our team of personal trainers and group fitness classes are ready to help you lose weight and boost your health in the process.
With our weight loss program in Lewis Center, OH, you'll lose weight quickly, safely, and in a way that is fun and engaging. We've helped hundreds of men and women lose thousands of combined pounds, and we'd love to add your success story.
What is the FastTrack2 Lewis Center, OH Weight Loss Program?
At FastTrack2, we help our clients lose weight, get fit, and build confidence in themselves. Our clients train in small groups in a private gym, with their own Lewis Center personal trainer with years of experience helping people lose weight.
Our Lewis Center weight loss program was inspired by the Biggest Loser. We help you motivate each other, encourage friendly competition, and make it possible for you to see the improvements and transformations that so many others have seen before you. With this program, you can expect:
At least 1% weight loss every week (2% for those very committed).
Improvement in your energy levels, strength, and endurance.
The satisfaction of seeing your results with those in the program with you.
We've had excellent success, with 3 clients that lose over 100 lbs, dozens of clients losing 25 lbs in 4 weeks, and clients losing as much as 50lbs in 10 weeks – all safely, and under the guidance of an experienced personal trainer.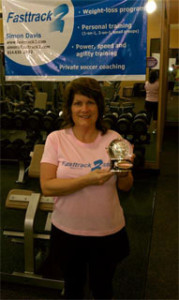 Weight Loss in Lewis Center, OH at FastTrack2
We've developed our weight loss program to be fun, engaging, and focused on what will get you the best possible results. If you're interested in learning more about any of our services, please click here call us today at (614) 638-2942 or visit us to take a tour of our Lewis Center gym, and learn more about the program and the teachers.